New Support Blog
Great Tips and Tricks
Our users ask some interesting questions sometimes and we try to provide comprehensive answers. We have decided to create a Support Blog with our answers so that other users can benefit from the tips, tricks and ideas that we pass on. Over time, we hope that the blog will develop into a comprehensive resource for our products, driven by your needs. Take a look today.
FX Equation 5 Released for Windows and Mac!
Astoundingly Quick Equations
FX Equation 5 (Win and Mac) is simply the fastest way to produce mathematical and scientific equations. It provides an equation creation environment that really is "Astoundingly Quick".
FX Equation 5 adds a Mac version as well as our new FX Autoquate, automatic equation detection system which automatically determines which parts of your entry are text and which are equations.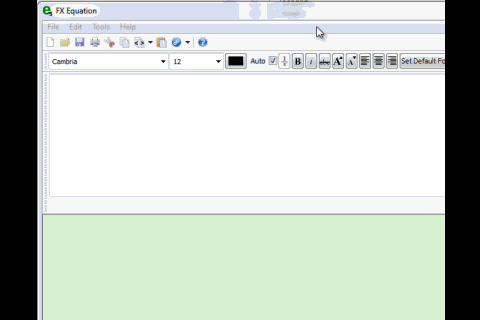 FX Equation's new FX Autoquate technology in action!
To use FX Equation, you just type the equation. FX Equation looks at what you have typed and puts everything in the right place. You never have to touch the mouse.
FX Draw 5 Released for Windows and Mac!
After two years of intense work, FX Draw 5 (Win and Mac) has been released. This means that the transition to a multi-platform model is nearly complete


FX Draw Lets You Draw Everything You Need To Do The Job - Quickly and Easily
What's New in FX Draw 5?
More information is available here.


Other News

New Video Tutorials
Efofex has created a YouTube channel containing training videos on various topics. The videos are a great way of extending the learning provided by our email tutorials. Visit the Tutorials page to try this fantastic learning option for busy teachers.
Re-register for Newsletter
If you haven't received a newsletter from us for a while, it may be that our old newsletters have been blocked. Re-register for our new format newsletter that is much more likely to get through your school's email system.
Free Posters
Our two posters are now out of print - so we have decided to give them away. You can now download high quality PDF files which can be printed locally. Enjoy!
Since 1989, Efofex has been producing tools that save mathematics and science teachers time. If you need to draw high quality mathematical diagrams, produce mathematical, chemical and physical equations as quickly as possible or provide high powered, but simple to use tools to mathematics students - we have a tool for you.